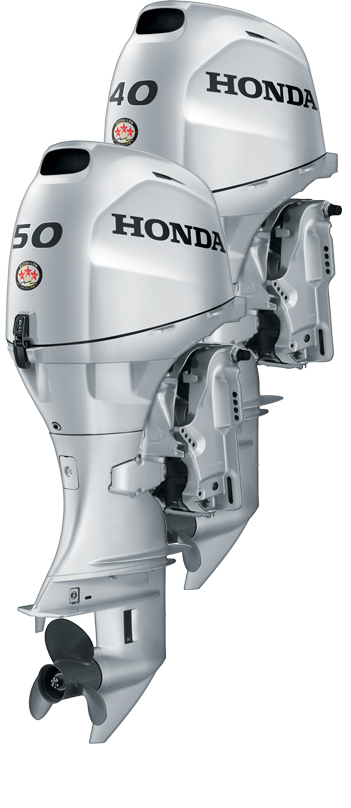 Ready to take you to great places. Like the head of the class.
The BF40 and BF50 are an outstanding combination of Honda's legendary four-stroke engineering and our latest outboard innovations. The result? The lightest, most compact engines in their class. And because they are from Honda, they're loaded with unparalleled features and technology.

Like BLAST (Boosted Low Speed Torque) for vastly improved hole shots. Programmed Electronic Fuel Injection, for easy starts, instant throttle response, and overall better fuel economy. Lean Burn Control stretches your gas even further by allowing a leaner air-to-fuel mixture.

Put it all together, and you'll l find that the BF40 and BF50 aren't just at the head of the class. They're in a class by themselves, redefining mid-range four-stroke performance.
Powerful Performance
Instant Acceleration
Honda's exclusive BLAST system improves acceleration at low speeds. The result? Instant acceleration and improved hole shot.
Learn more
High Performance Gearcase
Designed to get you going faster, the BF40 and 50's gearcase reduces drag, greatly reduces hull porpoise and minimizes spray, increasing acceleration and top speed.
Mikuni Intake System
The lightweight Mikuni long tube intake track system helps build low end torque, improving performance.
Lightweight and compact
Because of Honda's elegant design, the BF40 and 50 are among the lightest, most compact engines in their class. Perfect for aluminum boats, inflatables, skiffs and flats boats.
Superior Fuel Efficiency
Best In Class Fuel Efficiency
Lean Burn Control increases fuel efficiency by allowing combustion to operate on a leaner air/fuel mixture. At cruising speed, this engine runs on up to 20% less fuel* than others in its class.
Learn more
PGM-FI
Multi-port Programmed Fuel Injection adds both easy starts and improved fuel efficiency - without sacrificing performance.
Tough Corrosion Resistance
4-Front Corrosion Protection System
Honda's exclusive 4-Front Corrosion Protection System offers a patented, double-sealed multi-layered paint process.
Fresh Water Flushport
Fresh water flushport flushes debris and saltwater out of the engine.
Legendary Reliability
Honda Quality
Our outboards share many technologies and components used in Honda vehicles, with all the benefits of years of proven Honda engineering, precision manufacturing and reliability.
Unmatched peace of mind
Honda's True 5 Warranty is the best in the business. This transferable, non-declining warranty is the same on the last day as it is on the first.
Engine Alert System
The Engine Alert System uses visual, audio and RPM reduction circuits to alert the operator of over-heating, low oil PSI and over-revving.
Easy Ownership
On-board connectivity
NMEA 2000 protocols allow engine data to be interfaced with on-board systems and systems displays, such as SONAR or GPS.
High Output Charging for more usable power
The high output charging system features a 22 amp "On Demand" belt-driven alternator with 17 charging amps. This superior design enables the 40 and 50 to put out nearly twice as many charging amps as the competition's.
Easy Maintenance
Easy access side-mounted oil filter and oil fillers simplify maintenance, while "screw-type" valve adjusters reduce maintenance costs.
Fishing Friendly Tiller
3 Position Tiller Handle
The 3 Position Tiller Handle adjusts to your comfort for easiest hull maneuverability.
Easy Access Controls
The center mounted, ergonomically designed tiller handle is longer for improved handling. Adjustments for throttle and steering friction allow easier control. Up front shift lever, PTT switch, and engine alert lamps provide added convenience.
Attractive Options
Variable Trolling Speeds
An optional switch allows for variable trolling speeds, ideal for fishermen.
Power Trim/Tilt
Allows you to trim the unit for maximum performance and handling.
Trim Range: - 4° to +16°
Tilt Range: 63°
Specifications
| Engine | BF40 | BF50 |
| --- | --- | --- |
| Type | 4-Stroke SOHC, 3 Cylinder, 2 Valves/Cyl. | 4-Stroke SOHC, 3 Cylinder, 2 Valves/Cyl. |
| Displacement | 808 cc (49.4 cubic inches) | 808 cc (49.3 cubic inches) |
| Bore & Stroke | 70 mm x 70 mm (2.8 x 2.8 inches) | 70 mm x 70 mm (2.8 x 2.8 inches) |
| Full Throttle RPM Range | 5,000-6,000 RPM | 5,500-6,000 RPM |
| Rated Power | 40 HP @ 5,500 RPM | 50 HP @ 6,000 RPM |
| Cooling System | Water Cooled | Water Cooled |
| Fuel Delivery | Programmed Fuel Injection | Programmed Fuel Injection |
| Ignition System | MicroComputer Programmed | MicroComputer Programmed |
| Starting System | Electric | Electric |
| Exhaust | Through Hub | Through Hub |
| Lubrication | Wet Sump | Wet Sump |
| Trim Range | -4° to +16° | -4° to +16° |
| Tilt Range | 63° | 63° |
| Drive | BF40 | BF50 |
| --- | --- | --- |
| Gear Ratio | 2.08:1 | 2.08:1 |
| Gear Shift | F-N-R | F-N-R |
| Equipment | BF40 | BF50 |
| --- | --- | --- |
| Alternator with voltage regulator | 22-Amp (275 watt) | 22-Amp (275 watt) |
| Battery Charging Power | 17 Amps | 17 Amps |
| Propeller | Optional | Optional |
| Power Tilt | NA | NA |
| Power Trim & Tilt | Available | Available |
| Gas Assisted Tilt | Available | Available |
| Oil Pressure Alert | Standard | Standard |
| Temperature Alert | Standard | Standard |
| Rev-Limiter | Standard | Standard |
| Speedometer Pickup | Standard | Standard |
| Dimensions | BF40 | BF50 |
| --- | --- | --- |
| Overall Width | 372 mm/14.7 inches | 372 mm/14.7 inches |
| Transom Height | BF40 | BF50 |
| --- | --- | --- |
| L Type | 508 mm/20 inches | 508 mm/20 inches |
| X Type | NA | 635 mm/25 inches |
| Dry Weight | BF40 | BF50 |
| --- | --- | --- |
| L-Type | 97 kg/214 lbs. | 97 kg/214 lbs. |
| X-Type | NA | 101 kg/223 lbs. |