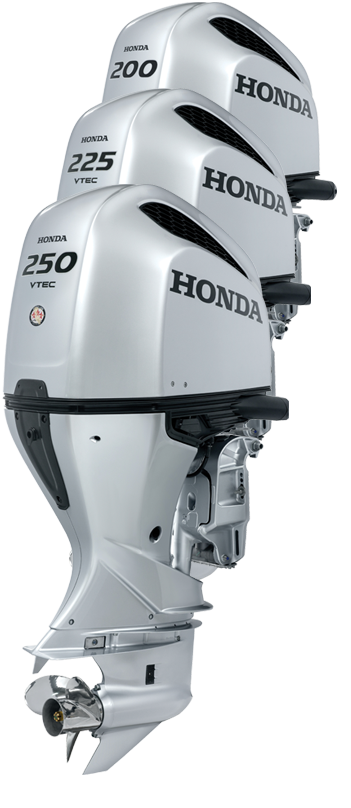 Our Best Outboards, for Your Best Time on the Water.
Honda's acclaimed BF250, BF225, and BF200 models deliver awesome V6 power with easy maintenance and tough corrosion resistance. Combining sleek aerodynamic styling, innovative features, and famous Honda reliability, the BF250, BF225, and BF200 outboards take legendary Honda performance into new waters.
The BF200, BF225, and BF250 feature the option of Honda's exclusive Intelligent Shift and Throttle (iST) for effortless, masterful control and the ultimate in custom tailored command.
Of course, the BF200, BF225, and BF250 are packed with the famous technological advances Honda outboard owners love. Like BLAST for maximum holeshot performance and Lean Burn Control for remarkable fuel efficiency. BF225 and BF250 models include VTEC® for explosive mid-range torque.
Whether you're chasing horizons, sportsfishing, or enjoying an afternoon with friends and family, the BF200, 225, and 250 are ready. So get out on the water – and bring Honda's very best with you.
Powerful Performance
Power where and when you need it.
Honda's exclusive VTEC technology offers a superior combination of power, torque, and fuel economy. (225 and 250hp)
Learn more
Instant Acceleration
Honda's exclusive BLAST system improves acceleration at low speeds. The result? Instant acceleration and improved hole shot.
Learn more
Quietest in its class
The BF200, 225, and 250 are the quietest outboards in their class. Meaning you get to enjoy more of the great outdoors, and less engine noise.
Dual channel, indirect-air-circuit induction system
The dual channel, indirect-air-circuit induction system in the cowling improves airflow, enhancing performance while helping funnel moisture away from the throttle body.
Superior Fuel Efficiency
Best In Class Fuel Efficiency
Lean Burn Control increases fuel efficiency by allowing combustion to operate on a leaner air/fuel mixture. At cruising speed, this engine runs on up to 20% less fuel* than others in its class.
Learn more
PGM-FI
Multi-port Programmed Fuel Injection adds both easy starts and improved fuel efficiency - without sacrificing performance.
Tough Corrosion Resistance
Corrosion Resistance
Critical interior components use a high corrosion resistant aluminum alloy, resulting in a more durable engine and gear case.
Extra Anodes
Extra anodes provide longer life.
HI-M Coating
Bolts and brackets are treated with a special HI-M coating for superior surface finishing and corrosion resistance.
4-Front Corrosion Protection System
Honda's exclusive 4-Front Corrosion Protection System offers a patented, double-sealed multi-layered paint process.
Fresh Water Flushport
A fresh water flushport flushes debris and saltwater out of the engine.
Legendary Reliability
Unmatched peace of mind
Honda's True 5 Warranty is the best in the business. This transferable, non-declining warranty is the same on the last day as it is on the first.
Honda Quality
Our outboards share many technologies and components used in Honda vehicles, with all the benefits of years of proven Honda engineering, precision manufacturing and reliability.
Extreme Duty Gearcase
Honda's high performance gear case is designed specifically to withstand the extreme duty cycles of law enforcement and military patrol boats for maximum performance and durability.
Engine Alert System
The Engine Alert System monitors vital engine functions and prevents engine damage by alerting the operator of: overheating, water in fuel, low oil PSI, battery, over-rev, and critical engine function.
2-Pass Cooling System
The unique cooling system passes through each aluminum exhaust manifold, the cylinder heads, and once again through the exhaust manifolds. This results in increased cooling efficiency and long-term durability.
Intelligent Shift & Throttle
iST: Superb Control
Honda's exclusive Intelligent Shift and Throttle (iST) command and control system delivers superb control plus plug-and-play installation of Honda Marine products and third-party controls and devices.
Multi Engine Applications
iST offers multi-engine applications, with fine tuning of throttle settings at any speed, enhanced docking and slow speed control, and a simple, easy to understand user interface. Available on select BF200, 225, and 250 models.
Learn more
Dual Outboard Integrations
For dual outboards, integration with Dometic's Optimus 360 joystick steering system makes maneuvering so much easier. Dometic's SeaWays keeps you headed in right direction and SeaStation's virtual anchoring system keeps you positioned over wrecks in hundreds of feet of water.
Easy Ownership
Simplified maintenance
The little things make a big difference. The BF200, 225, and 250 are designed to reduce maintenance time for routine tasks like oil and filter changes.
3 latch lock & seal cover
Easy to remove and carry the cover, simplifying maintenance access.
On-board connectivity
NMEA 2000 protocols allow engine data to be interfaced with on-board systems and systems displays, such as SONAR or GPS.
Extra Charging Power
Save your battery with AMP+
At idle, when the engine senses a need for additional amperage, AMP+ automatically increases the rpm's by 100 to produce an additional 9 amps. This helps prevent the draining of critical battery power when using multiple accessories.
High Output Charging for more usable power
The charging system features a 90 amp "On Demand" belt-driven alternator with 60 charging amps. This superior design reduces heat buildup and provides outstanding battery charging across the RPM range.
Attractive Options
Color Options
White and silver models available
Counter Rotating
Counter Rotation available
Mechanical Options
Boaters who prefer traditional controls will enjoy Honda's smooth operating mechanical command and control system, with a responsive, reliable design. Supports up to two engines and a single-helm location as well as a side-mount configuration.
iST Options
Or choose the latest technology with Honda's iST for superb control and easy installation of a variety of displays and devices. iST supports up to 4 engines and two control stations.
Learn more
Specifications
| Engine | BF200 | BF225 | BF250 |
| --- | --- | --- | --- |
| Type | 4-Stroke, SOHC, 60° V6, 24 Valve | 4-Stroke, SOHC, 60° V6, 24 Valve | 4-Stroke, SOHC, 60° V6, 24 Valve |
| Displacement | 3,583 cc (219 cubic inches) | 3,583 cc (219 cubic inches) | 3583cc (219 cubic ins.) |
| Bore & Stroke | 89 x 96 mm | 89 x 96 mm (3.5 x 3.8 in.) | 89 X 96 mm |
| Full Throttle RPM Range | 5,000-6,000 RPM | 5,000-6,000 RPM | 5300 - 6300 RPM |
| Rated Power | 200 HP @ 5,500 rpm | 225 HP @ 5,500 RPM | 250 HP @ 5800 RPM |
| Cooling System | Water Cooled | Water Cooled | Water Cooled |
| Fuel Delivery | Programmed Fuel Injection | Programmed Fuel Injection | Programmed Fuel Injection |
| Ignition System | MicroComputer Programmed | MicroComputer Programmed | MicroComputer Programmed |
| Starting System | Electric | Electric | Electric |
| Exhaust | Through Hub | Through Hub | Through Hub |
| Lubrication | Wet Sump | Wet Sump | Wet Sump |
| Trim Range | -4° to +16° | -4° to +16° | -4° to +16° |
| Tilt Range | 72° | 72° | 72° |
| Drive | BF200 | BF225 | BF250 |
| --- | --- | --- | --- |
| Gear Ratio | 2.00:1 | 2.00:1 | 2.00:1 |
| Gear Shift | F-N-R | F-N-R | F-N-R |
| Equipment | BF200 | BF225 | BF250 |
| --- | --- | --- | --- |
| Alternator (Electric Start) | 90-Amp (1118 watt) | 90-Amp (1118 watt) | 90-Amp (1118 watt) |
| Battery Charging Power | 60 Amps (756 watts) | 60 Amps (756 watts) | 60 Amps (756 watts) |
| Propeller | Optional | Optional | Optional |
| Power Tilt | NA | NA | NA |
| Power Trim & Tilt | Standard | Standard | Standard |
| Gas Assisted Tilt | NA | NA | NA |
| Oil Pressure Alert | Standard | Standard | Standard |
| Temperature Alert | Standard | Standard | Standard |
| Rev-Limiter | Standard | Standard | Standard |
| Speedometer Pickup | Standard | Standard | Standard |
| Dimensions | BF200 | BF225 | BF250 |
| --- | --- | --- | --- |
| Overall Width | 660 mm/26 inches | 660 mm/26 inches | 660 mm / 26 inches |
| Transom Height | BF200 | BF225 | BF250 |
| --- | --- | --- | --- |
| L Type | 508 mm/20 inches | 508 mm/20 inches | 508 mm / 20 in. |
| X Type | 635 mm/25 inches | 635 mm/25 inches | 635 mm / 25 in. |
| XX Type | - | 762 mm/30 inches | 762 mm / 30 in. |
| Dry Weight | BF200 | BF225 | BF250 |
| --- | --- | --- | --- |
| L-Type | 276 kg/609 lbs | 276 kg/609 lbs | 276 kg/609 lbs |
| X-Type | 282 kg/622 lbs | 282 kg/622 lbs | 282 kg/622 lbs |
| XX-Type | - | 286 kg/632 lbs | 286 kg/632 lbs |
| Emissions | BF200 | BF225 | BF250 |
| --- | --- | --- | --- |
| CARB 2017 Rating | 3 Stars | 3 Stars | 3 Stars |