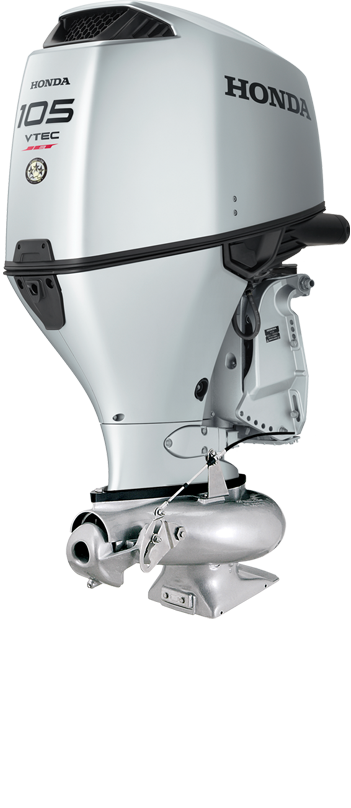 Deep Technology for Shallow Waters
The 105 Jet takes Honda's best technology and adds a jet drive. It's based on the proven BF150 platform, with a powerful jet drive added for superior shallow water performance.
The 105 Jet is perfect for boating in locations where normal prop driven boats can't operate. Rocky bottom shallows, white river rapids, and even over sandbars – your Honda can take you there. The low-profile foot design allows a boater to maneuver in minimal depths without the fear of getting a propeller caught or damaged on rocky, rough bottoms, shallows, or other underwater obstacles.
Based on the BF150's proven platform, the 105 Jet takes everything you love about the BF150 and adds the versatility of a Jet. Superior performance with VTEC technology, instant acceleration with BLAST, best in class fuel efficiency – you've got it all, in a motor that can go where other boats can't.
Powerful Performance
Power where and when you need it.
Honda's exclusive VTEC technology offers a superior combination of power, torque, and fuel economy.
Learn more
Instant Acceleration
Honda's exclusive BLAST system improves acceleration at low speeds. The result? Instant acceleration and improved hole shot.
Learn more
Dual Stage Induction
Dual Stage Induction maximizes air input for combustion.
Dual Overhead CAM (DOHC)
The 24-valve DOHC configuration offers increased high-rpm power.
Engine Command Module
The ECM receives constant input from 18 different sensors to deliver instant starts, smooth operation, strong performance and excellent fuel efficiency.
Superior Fuel Efficiency
Best In Class Fuel Efficiency
Lean Burn Control increases fuel efficiency by allowing combustion to operate on a leaner air/fuel mixture. At cruising speed, this engine runs on up to 20% less fuel* than others in its class.
Learn more
PGM-FI
Multi-port Programmed Fuel Injection adds both easy starts and improved fuel efficiency - without sacrificing performance.
Legendary Reliability
Unmatched peace of mind
Honda's True 5 Warranty is the best in the business. This transferable, non-declining warranty is the same on the last day as it is on the first.
Honda Quality
Our outboards share many technologies and components used in Honda vehicles, with all the benefits of years of proven Honda engineering, precision manufacturing and reliability.
Corrosion Resistance
Honda's exclusive 4-Front Corrosion Protection System offers a patented, double-sealed multi-layered paint process. Sacrificial anodes and stainless steel technology, along with waterproof connectors and a freshwater flushport, all enhance corrosion protection.
Engine Alert System
The Engine Alert System monitors vital engine functions and prevents engine damage by alerting the operator of: overheating, water in fuel, low oil PSI, battery, over-rev, and critical engine function.
3-Way Cooling System
Three separate cooling systems keep the cylinder heads running cooler for long-term durability.
Easy Ownership
Superior battery charging for more usable power
The charging system offers an impressive 55 total amps with 40 amps of charging power for plenty of accessories.
Simplified maintenance
The little things make a big difference. The 105 Jet is designed to reduce maintenance time for routine tasks like oil and filter changes.
Fisherman Friendly Variable Speed Trolling
A variable speed trolling switch makes fishing easy and convenient. Simply push the toggle switch to adjust the trolling speed in 50 RPM increments from 650 RPM to 1000 RPM.
On-board connectivity
NMEA 2000 protocols allow engine data to be interfaced with on-board systems and systems displays, such as SONAR or GPS.
Specifications
| Engine | 105 Jet |
| --- | --- |
| Type | 4-Stroke DOHC 4 Cylinder/16 Valves |
| Displacement | 2,354 cc (144 cubic inches) |
| Bore & Stroke | 87 mm x 99 mm (3.4 x 3.9 inches) |
| Full Throttle RPM Range | 5,000-6,000 RPM |
| Rated Power | 105 HP @ 5,500 RPM |
| Cooling System | Water Cooled |
| Fuel Delivery | Programmed Fuel Injection |
| Ignition System | MicroComputer Programmed |
| Starting System | Electric |
| Exhaust | Through Hub |
| Lubrication | Wet Sump |
| Trim Range | -4° to +16° |
| Tilt Range | 72° |
| Drive | 105 Jet |
| --- | --- |
| Gear Ratio | Direct Drive |
| Gear Shift | F-N-R |
| Equipment | 105 Jet |
| --- | --- |
| Alternator (Electric Start) | 51 Amp |
| Battery Charging Power | 30 Amp (1000 RPM), 40 Amp (2000+ RPM) |
| Propeller | NA (No prop) |
| Power Tilt | NA |
| Power Trim & Tilt | Standard |
| Gas Assisted Tilt | NA |
| Oil Pressure Alert | Standard |
| Temperature Alert | Standard |
| Rev-Limiter | Standard |
| Speedometer Pickup | Standard |
| Dimensions | 105 Jet |
| --- | --- |
| Overall Width | 580 mm/22.8 inches |
| Transom Height | 105 Jet |
| --- | --- |
| L Type | 635 mm/25 inches |
| Dry Weight | 105 Jet |
| --- | --- |
| L-Type | TBD |