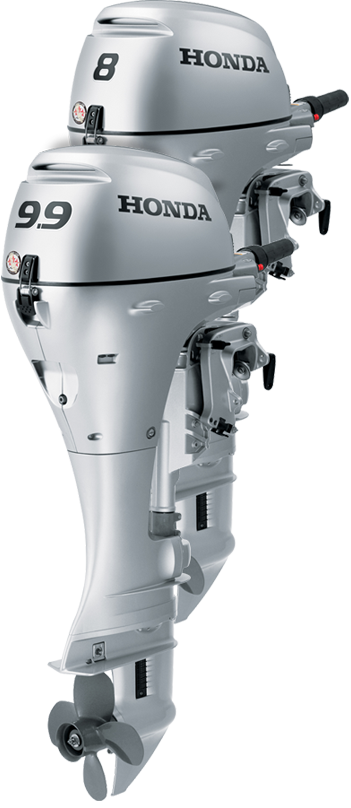 Portable, fuel efficient, and powerful.
The BF8 and BF9.9 offer more of what you want. More battery charging power. Easier to use features. Quieter performance. Dependable performance in a portable package. Better reliability.

Add in the optional Power Thrust design, and you've got an even more powerful and world-known Honda four-stroke motor, with 60% more thrust in reverse and 15% more in forward.
Portable Power
PGM Ignition
A reliable microprocessor accurately controls ignition timing during start-up and across the entire RPM range, providing optimum overall performance.
Shallow Water Drive
An innovative shallow water drive feature lets you tilt the motor up, allowing you to easily operate in shallow areas. Shallow water drive greatly reduces the risk of engine damage.
Power Tilt Available
Conveniently allows user to tilt the unit out of the water. At low speeds acts like a power shallow-water-drive device, permitting access to the shallow water areas.
Power Thrust for Added Performance
Better Performance for Heavy Loads
The BF8 and 9.9 are available with an optional Power Thrust design (BFP models). The 10" x 7 5/8" Power Thrust 4-blade propeller creates 60% more thrust in reverse and 15% more in forward. The result? Improved maneuverability and performance.
Reverse Exhaust Relief for increased manueverability
The exhaust relief feature creates more power in reverse by minimizing cavitation around the propeller blades. The exhaust relief is located above the cavitation plate, allowing the prop to run in clean, exhaust-free water.
Legendary Reliability
True 5 Warranty
Honda's True 5 Warranty is the best in the business. This transferable, non-declining warranty is the same on the first day as it is on the last.
Engine Alert System - Keeps you informed
The integrated warning system protects the engine from severe damage due to low oil, over-revving and overheating.
4-Front Corrosion Protection System - Fights the elements
A patented, "Double Sealed" multi-layered paint process. Sacrificial anodes and stainless steel technology, along with waterproof connectors, all enhance corrosion protection.
Easy Starting
Easy One Hand Starting
Working together, a built-in decompression release and digital CDI system set the ignition timing to zero degrees during start-up. This greatly reduces the effort required to pull-start the engine by hand.
Auto Start Enrichment - easy starts
Auto Start Enrichment acts as an automatic choke. It automatically adjusts the air/fuel mixture for quick, easy starting and warm-up.
Easy Ownership
Lightweight Rounded Design
Easy to transport, BF8 and 9.9 are perfect for small boats, dinghies or auxiliary. The ergonomic design is rounded to avoid catching fishing line.
Integrated Carrying Handle - easier transport
A integrated carrying handle makes transporting the engine a breeze. The convenient, foldaway carry handle is situated at the exact top/bottom balance point of the engine. This means the engine carries more easily in a level position.
Best in Class High Output Charging
The BF8 and 9.9 provide 2 Amps at 1000 RPM and an amazing 12 amps at only 3000 RPM. This helps to maintain the battery charge or keep electronics going - even at trolling speeds.
Pendulum Mount System - Smooth operation
Honda's exclusive triangulated rubber mount system absorbs vibration and provides unbelievably smooth operation.
Convenient Controls
Convenient, Up Front Tiller Controls
A convenient front-mounted shift lever allows fingertip shifting. The Twist Grip Throttle & Tensioner minimize driver fatigue.
Longer Tiller Handle - better control
A convenient longer tiller handle improves control and reduced steering effort. The extended handle is made of a lightweight composite, increasing its durability while decreasing the motor's weight.
EZ Steer Friction Control
A unique lever design allows you to precisely adjust steering tension for improved control and comfort.
Specifications
| Engine | BF8 | BF9.9 |
| --- | --- | --- |
| Type | 4-Stroke SOHC 2 Cylinder/4 Valves | 4-Stroke SOHC 2 Cylinder/4 Valves |
| Displacement | 222 cc (13.5 cubic inches) | 222 cc (13.5 cubic inches) |
| Bore & Stroke | 58 mm x 42 mm (2.3 x 17 inches) | 58 mm x 42 mm (2.3 x 1.7 inches) |
| Full Throttle RPM Range | 4,500-5,500 RPM | 5,000-6,000 RPM |
| Rated Power | 8 HP @ 5,000 RPM | 9.9 HP @ 5,500 RPM |
| Cooling System | Water Cooled | Water Cooled |
| Fuel Delivery | 1 Carburetor | 1 Carburetor |
| Ignition System | PGM-IG | PGM-IG |
| Starting System | Electric/Recoil | Electric/Recoil |
| Exhaust | Through Hub | Through Hub |
| Lubrication | Wet Sump | Wet Sump |
| Trim Range | 5 Stage 4°-8°-12°-16°-20° | 5 Stage 4°-8°-12°-16°-20° |
| Tilt Range | 71° | 72° |
| Drive | BF8 | BF9.9 |
| --- | --- | --- |
| Gear Ratio | 2.33:1 | 2.33:1 |
| Gear Shift | F-N-R | F-N-R |
| Equipment | BF8 | BF9.9 |
| --- | --- | --- |
| Alternator with voltage regulator (Electric Start) | 12-Amp (148 watt) | 12-Amp (148 watt) |
| Alternator with voltage regulator (Manual Start) | 6-Amp (76 watt) | 6-Amp (76 watt) |
| Propeller | 4-Blade Aluminum | 4-Blade Aluminum |
| Diameter x Pitch, Standard | 9¼ x 8 inches | 9¼ x 8 inches |
| Diameter x Pitch, Power Thrust | 10 x 6.5 inches | 10 x 6.5 inches |
| Power Tilt | Available | Available |
| Power Trim & Tilt | NA | NA |
| Gas Assisted Tilt | NA | NA |
| Oil Pressure Alert | Standard | Standard |
| Temperature Alert | Standard | Standard |
| Rev-Limiter | Standard | Standard |
| Dimensions | BF8 | BF9.9 |
| --- | --- | --- |
| Overall Width | 345 mm/13.6 inches | 345 mm/13.6 inches |
| Transom Height | BF8 | BF9.9 |
| --- | --- | --- |
| S Type | 381 mm/15 inches | 381 mm/15 inches |
| L Type | 508 mm/20 inches | 508 mm/20 inches |
| X Type | 635 mm/25 inches | 635 mm/25 inches |
| Dry Weight | BF8 | BF9.9 |
| --- | --- | --- |
| S-Type | 42 kg/92 lbs. | 42 kg/92 lbs. |
| L-Type | 44 kg/98 lbs. | 44 kg/98 lbs. |
| X-Type | 48 kg/107 lbs. | 48 kg/107 lbs. |