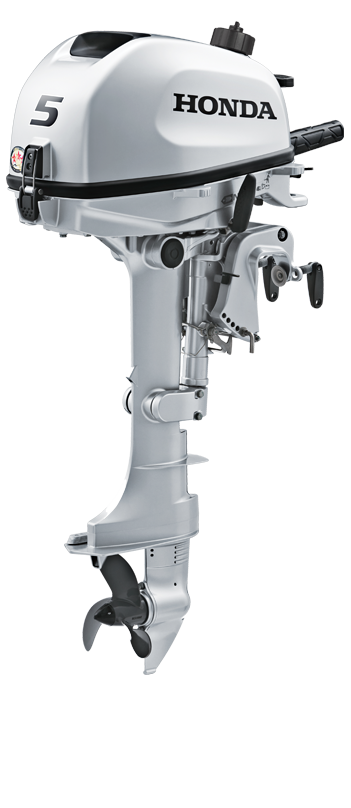 Quiet, dependable, lightweight.
Which is exactly what you want in a portable outboard. The BF5 is incredibly lightweight and compact. It's easy to transport and ideal for small tenders, and jon boats.

And with features designed to make your boat ride smooth, quiet, and Honda dependable, you'll be ready to enjoy a day on the water for years to come.
Lightweight Portability
Lightweight and compact
The BF5's lightweight, compact design makes it perfect for small tenders, sailboats, jon boats, and inflatables. Weighing in at only 60 pounds, this motor is easy to transport.
Easy to carry and install
Enlarged carrying handles provides superior portability and ease of installation.
Convenient Controls
Convenient Folding Tiller Handle
The tiller handle's compact design allows for easy transportation and storage. Fold it either up or down as you prefer.
Twist grip throttle - more comfortable to use
Allows for precise throttle control. A unique throttle tensioner minimizes driver fatigue.
F-N-R Gearshift
The BF5 features full forward, neutral, and reverse shifting. A safety lockout system allows the engine to be started in neutral gear only.
Shallow Water Drive
An innovative shallow water drive feature lets you tilt the motor up, allowing you to easily operate in shallow areas. Shallow water drive greatly reduces the risk of engine damage.
Portable Powerhouse
Quietest in its class
The BF5 lead its class in noise reduction from low to high speed.
Low vibration for a comfortable ride
Honda's exclusive design optimizes the isolation mounts to minimize the transfer of vibration to both the tiller handle and the transom. The custom rubber motor mounts absorb vibration, resulting in a motor with among the lowest handle vibration in its class.
Large Displacement Engine for more power
Water-cooled, single cylinder design for better low- to mid-range power.
Easy Ownership
Best In Class Run Time
The large capacity 1.5 L internal fuel tank provides enough fuel for over 40 minutes of wide open throttle operation. Need more run time? The BF5 offers an external fuel tank connection.
6 Amp Charging System Available
An optional 6 amp charging system helps keep accessories and electronics charged.
Easy Starting
You'll be impressed with how easy it is to start the BF5. The decompression mechanism opens the exhaust valve during the starting process. This reduces the amount of force needed to start the motor. Starting is easy, every time.
One-Push Stop Switch
The one-push stop switch makes it just as easy to shut off the motor. Pressing the stop button once safely shuts off the motor without it re-starting.
Legendary Reliability
True 5 Warranty -Unmatched Peace of Mind
Honda's True 5 Warranty is the best in the business. This transferable, non-declining warranty is the same on the first day as it is on the last.
4-Front Corrosion Protection System - Fights the elements
A patented, "Double Sealed" multi-layered paint process, sacrificial anodes, stainless steel technology, and waterproof connectors all enhance corrosion protection.
Oil alert protects your engine
A Low Oil Alert combined with an RPM reduction feature protect the engine from severe damage if the oil reaches a low pressure.
Specifications
| Engine | BF5 |
| --- | --- |
| Type | 4-Stroke OHV, 1 Cylinder/2 Valves |
| Displacement | 127 cc (7.8 cubic inches) |
| Bore & Stroke | 60 mm x 45 mm (2.4 x 1.8 inches) |
| Full Throttle RPM Range | 4,500-5,500 RPM |
| Rated Power | 5 HP @ 5,500 RPM |
| Cooling System | Water Cooled |
| Fuel Delivery | 1 Carburetor |
| Internal Fuel Tank Capacity | 1.5L (.39 gal.) |
| Ignition System | Digital CDI |
| Starting System | Recoil |
| Exhaust | Under Water, Above Propeller |
| Lubrication | Wet Sump |
| Trim Range | 5-Stage 5°-9°-13°-17°-21° |
| Tilt Range | 70° |
| Drive | BF5 |
| --- | --- |
| Gear Ratio | 2.08:1 |
| Gear Shift | F-N-R |
| Equipment | BF5 |
| --- | --- |
| Alternator | Opt. 6-Amp |
| Propeller | 3-Blade Aluminum |
| Diameter x Pitch | 7? x 6¾ inches |
| Available Optional Propellers | 3 |
| Oil Pressure Alert | Standard |
| Low Oil Pressure RPM Reduction | Standard |
| Rev-Limiter | Standard |
| External Fuel Tank Connector | Standard |
| Decompression Mechanism | Standard |
| One-Touch Stop Button | Standard |
| Dimensions | BF5 |
| --- | --- |
| Overall Width | 347 mm/13.66 in. |
| Transom Height | BF5 |
| --- | --- |
| S Type | 434 mm/15 in. |
| L Type | 561 mm/20 in. |
| Dry Weight | BF5 |
| --- | --- |
| S-Type | 27 kg/60 lb. |
| L-Type | 27.5 kg/60.6 lb. |