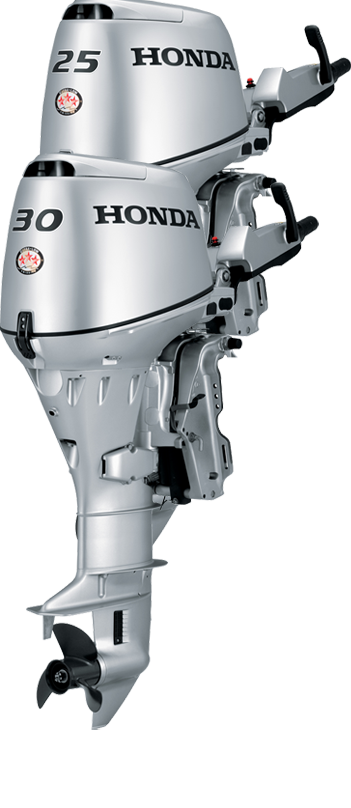 Packed with dependable power.
For mid and smaller horsepower needs, there's plenty of punch in the Honda BF30 and BF25. But it's power you'll feel and never hear. That's because all Hondas are whisper quiet. So extraordinarily quiet, we don't have to put extra dampening insulation in the cowling like most manufacturers do.

Instead we pack 'em full of features. Like a Center Mount Tiller with up-front controls. The 3 to 3 Induction system that provides smooth, quiet operation. And Autostart Enrichment, which makes starting a breeze.

And of course, the exceptionally durable BF25 and BF30 are backed by the best standard warranty you can get. The end result? More good times on the water.
Powerful Performance
Increased Displacement For More Power
The BF25 and 30 are among the largest displacement in their class, at 552 cc (33.7 cubic inches). This provides more torque in midrange operation.
3 to 3 Induction
3 to 3 induction provides smooth, quiet operation, along with instant throttle response and performance. A compact 3-cylinder, 3-carburetor design utilizes one carburetor per cylinder. This design is more responsive than competitive throttle bodies with long intake runners.
PGM Ignition
A reliable microprocessor accurately controls ignition timing during start-up and across the entire RPM range, providing optimum overall performance.
Forced Air Ventilation
The unique air intake on the top of the cowl allows cooler air to enter and warmer air to escape. The ventilation system reduces under-the-hood operating temperature, improving performance and long-term durability of the electrical components.
3 Inlet Cooling
Provides plenty of water to maintain optimum engine temperature in all conditions.
Legendary Reliability
Honda Quality
Our outboards share many technologies and components used in Honda vehicles, with all the benefits of years of proven Honda engineering, precision manufacturing and reliability.
Unmatched peace of mind
Honda's True 5 Warranty is the best in the business. This transferable, non-declining warranty is the same on the last day as it is on the first.
Engine Alert System
The Engine Alert System uses visual, audio and RPM reduction circuits to alert the operator of over-heating, low oil PSI and over-revving.
Corrosion Resistance
Honda's exclusive 4-Front Corrosion Protection System offers a patented, double-sealed multi-layered paint process.
Easy Ownership
Easy Starting
Auto Start Enrichment acts as an automatic choke. It automatically adjusts the air/fuel mixture for quick, easy starting and warm-up.
High Output Charging System for more power
A rectifier/regulator is standard on both manual and electric-start models. On manual models, you have the convenience of 4 Amps to charge the battery, and on electric-start models, a high-output 10 Amp system.
Easy Maintenance
Easy access side-mounted oil filter and oil fillers simplify maintenance, while "screw-type" valve adjusters reduce maintenance costs.
Fishing Friendly Tiller
Convenient Controls
The center mounted, ergonomically designed tiller handle is longer for improved handling. Adjustments for throttle and steering friction allow easier control. Up front shift lever, PTT switch, and engine alert lamps provide added convenience.
Forward Mounted Shift Lever
Provides easy access to the forward-mounted controls.
Attractive Options
Gas Assist Tilt
Acting much like a pressure strut on a car's trunk lid, the gas-filled cylinder makes it easy to tilt the engine for running in shallow water, or to raise it completely out of the water for protection.
Power Trim/Tilt
Allows you to trim the unit for maximum performance and handling.
Trim Range: - 4° to +12°
Tilt Range: 64°
Specifications
| Engine | BF25 | BF30 |
| --- | --- | --- |
| Type | 4-Stroke SOHC 3 Cylinder - 2 Valves/ Cyl. | 4-Stroke SOHC 3 Cylinder - 2 Valves/ Cyl. |
| Displacement | 552 cc (33.7 cubic inches) | 552 cc (33.7 cubic inches) |
| Bore & Stroke | 61 mm x 63 mm (2.4 x 2.5 inches) | 61 mm x 63 mm (2.4 x 2.5 inches) |
| Full Throttle RPM Range | 5,000-6,000 RPM | 5,000-6,000 RPM |
| Rated Power | 25 HP @ 5,500 RPM | 30 HP @ 6,000 RPM |
| Cooling System | Water Cooled | Water Cooled |
| Fuel Delivery | 3 Carburetors | 3 Carburetors |
| Ignition System | PGM-IG | PGM-IG |
| Starting System | Electric | Electric |
| Exhaust | Through Hub | Through Hub |
| Lubrication | Wet Sump | Wet Sump |
| Trim Range | -4° to +12° | -4° to +12° |
| Tilt Range | 64° | 64° |
| Drive | BF25 | BF30 |
| --- | --- | --- |
| Gear Ratio | 2.08:1 | 2.08:1 |
| Gear Shift | F-N-R | F-N-R |
| Equipment | BF25 | BF30 |
| --- | --- | --- |
| Alternator (Electric Start) | 10-Amp (126 watt) | 10-Amp (126 watt) |
| Propeller | 3-Blade Aluminum | 3-Blade Aluminum |
| Diameter x Pitch | 9 1/4 x 12 inches | 9 7/8 x 12 inches |
| Power Tilt | NA | NA |
| Power Trim & Tilt | Available | Available |
| Gas Assisted Tilt | Available | Available |
| Oil Pressure Alert | Standard | Standard |
| Temperature Alert | Standard | Standard |
| Rev-Limiter | Standard | Standard |
| Dimensions | BF25 | BF30 |
| --- | --- | --- |
| Overall Width | 375 mm/14.8 inches | 375 mm/14.8 inches |
| Transom Height | BF25 | BF30 |
| --- | --- | --- |
| S Type | 381 mm/15 inches | 381 mm/15 inches |
| L Type | 508 mm/20 inches | 508 mm/20 inches |
| Dry Weight | BF25 | BF30 |
| --- | --- | --- |
| S-Type | 70.5 kg/155 lbs. | 70.5 kg/155 lbs. |
| L-Type | 72.5 kg/160 lbs. | 72.5 kg/160 lbs. |